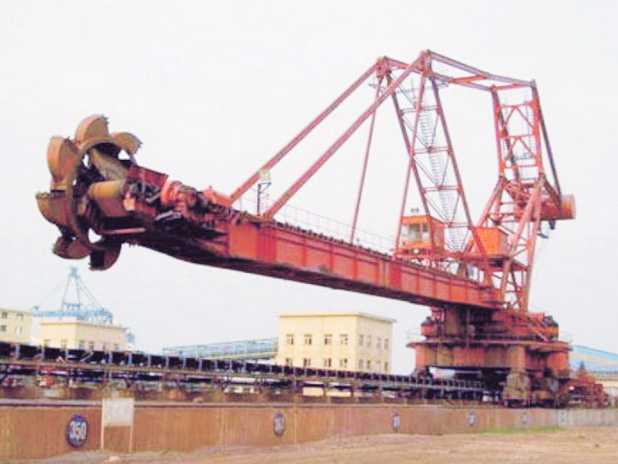 Product Introduction
  As a kind of high-efficient,continuous and large-scale handing quiment which is suitable for the bulk materials,thecantilever-typebucket-wheel(stacker)reclaimer is mainly used for the coal an ore storage yards in the electricity,metallurgy coalbuilding materials,chemical and other industries.
  Our company's arm-trype bucket-wheel shacker reclaimer has the arm range and stacking capacity range of 20-60m and 200-11000t/h respectively.The abovementioned equipment is widely applied ta the strip materials yard.
  Performance features.
  1、The cantilever-type bucket-wheel(stacker)reclaimer can integrate hosting,transportation,excavation and other functions with high eficient.Considering that it can combine the excavation mechanism with the transportation devices, these two mechanism can make conltinuous operation,therein,the former mechanism shalltake charge of reclaiming and thelater mechanism is used for transportation.
  2、Low energy consumption the materials are transported by the belt conveyor which has smal resistance.
  3、Long service lfe.Due to the small impact force during reclaiming,small abrasion of spare parts and the wear-resistant materials which are applied by the bucket tooth,the machine can prolong its service life.
  4、Easy operation Considering that PLC is applied to control the machine,its working process has realized the semi-automation and automation. The cantilever slewing applies 1/cos frequency control to make the machine in the high-eficient state.
  5.It applies the advanced design method.Such as,the computer aided design,three dimensional design and the optimized design of steel structure can absorb the advanced technology from foreign countries,as a resut,the machine can be designed by the advanced and
  reasonable technolog.Due to the stacker reclaimer designing manufacturing experience and the continuous summary enhancement,therefore,the equipment can be put into practice reliably.
  6.The equipment is guaranteed by the advanced production equipment and technology means.Such as,the steel pretreatment production line can enhance the products quality and wear-resistant capacity,however,the large-scale boring miling machine has improved the processing quality of large parts.The large structural parts shall be integrally preassembled in the factory, the driving parts shall accept the trail run in the factory,and the slewing parts shall be prepared by the mould.
  Technical Parameters